Casa de Familia features one three-bedroom unit, four one-bedroom units and 11 two-bedroom units. It has drug and alcohol diversion counseling on site and immediate access to Good Samaritan's detoxification programs, as well as Head Start and after-school children's services on the campus.
401-A West Morrison Ave
Santa Maria, CA 93458
(805) 347-3338
The Pine St Bungalows are located centrally in the city of SM.  Pine St Provides housing to two low income families.  Residents also receive supportive services such as case management and treatment services are located within walking distance of the property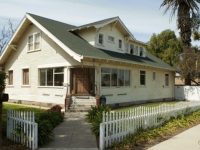 Recently Renovated – The Cook Street apartments provide three two bedroom apartments to low income families
Hope House is Triplex located in Lompoc. These low income housing apartments provide 3 units with one bedroom each.  Case management as well as other supportive services are available to the residents
The Harvey House Located in Lompoc provides permanent housing to a large family.
Support us and change the course of a life today!