Collaborative & Innovative
Good Samaritan Shelter's Santa Maria Emergency Shelter and Bridge House are emergency shelters designed to meet the needs of homeless individuals and families. These programs help individuals and families gain stability and assist moving them towards self-sufficiency.
Open starting at 4:30 pm each day, persons wishing to enter the program may contact the program at anytime during regular working hours between 8:30 am – 5:00 pm to set up a time for an intake. Services available to residents include but are not limited to: overnight shelter, case management, laundry facilities, hot meals, and mental health services. 
Good Samaritan's Family Shelter was developed in response to the growing need of a program to assist families who are in limbo due to socio- and economic hardship. This 90-day program allows families with children to work closely with a case manager to attain various life skills so that the family may successfully transition into independent living.
For More Information or to Check Bed Availability Contact:
Emergency Shelter and Family Shelter
401-C West Morrison Ave
Santa Maria, CA 93454
Phone: (805) 347-3338 x101
Fax: (800) 969-9350
Bridge House
2025 Sweeney Rd
Lompoc, CA 93436
Phone: (805) 735-4390 
Fax: (866) 898-6293
Marks House is a 19-bed family transitional shelter located in Lompoc, CA. Currently operated by Good Samaritan Shelter, the goal of Marks House is to help homeless families achieve self-sufficiency.
We are able to do this by providing temporary transitional transitional shelter where a family may stay together, while addressing the root causes of homelessness so that the family may never be homeless again.
For More Information Contact:
Mark's House
113 South M Street
Lompoc, CA 93436
Phone: (805) 735-9980
Fax: (800) 923-1798
The Hedges House of Hope shelter is a 45-bed emergency shelter for person experiencing homelessness. Referrals are made through the Coordinated Entry System.
For More Information Contact:
Hedges House of Hope
6549 El Colegio Road, Goleta, CA 93117
Program description coming soon.
For More Information Contact:
Step-Down Housing
421 North Alisos Street
Santa Barbara, CA 93103
Life House is a 6-bed house for justice-involved male clients referred by the District Attorney and Behavioral Wellness. Clients receive case management services for successful community engagement.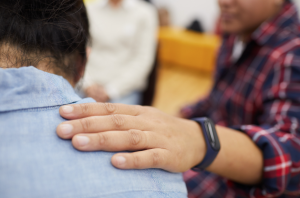 For More Information Contact:
Life House
1443 Swallow Court
Santa Maria, CA 93454
SANTA MARIA / SANTA BARBARA
Community Corrections Partnership (CCP) Program
The CCP Program helps people experiencing homelessness who are on probation obtain transitional and permanent housing.
For More Information Contact:
Community Corrections Partnership
Director: Donna Flores
The Santa Maria Safe House program is a specialized and secure program designed to help female victims of human trafficking regain independence. This specialized housing program provides clients with a safe place to stay, case management support, life skills, and much more. 
For More Information Contact:
Oak Street is a 6-bed facility providing emergency housing for women experiencing homelessness.
For More Information Contact:
836 Oak Street
Lompoc, CA 93436
The DignityMoves site consists of 35 private rooms for individuals experiencing homelessness. Residents have the safety and dignity of a private space while they work towards a more permanent exit from homelessness. 
Good Samaritan Shelter provides support services for residents and others in the community on a walk-in basis, and connects clients to an array of other services.
For More Information Contact:
Aaron Drake
Program Manager
Phone: 805-518-2704
adrake@goodsamaritanshelter.org
Support us and change the course of a life today!